I was teaching a class of 20-somethings and announced we would be looking at the beatitudes (Mt 5:3-11). A godly young woman raised her hand and said "I hate the beatitudes." And then another voiced the same opinion. This continued until it seemed like the entire class echoed the same attitude. They totally disliked what Jesus was saying.
Why? They had all been taught Jesus was saying they had to be better than they were in order to be blessed. They needed to be more "poor in spirit" before they would be blessed. For sure they needed to "mourn" more for their sin. Do everything a little better and then you can be blessed. No grace without better performance. The New Testament's Ten Commandments.
I didn't like the beatitudes either…that is until about ten years ago. That's when I learned to read them through the lens of grace and they become good news. Great news.
The key to unlocking the beatitudes as good news is to understand the context. Jesus was teaching and healing "all the sick, those afflicted with various diseases and pains, those oppressed by demons, epileptics and paralytics" (Mt 4:24). This attracted huge crowds and uses it as a teachable moment.
Jesus first says, "Blessed are the poor in spirit…".  Who had Jesus just blessed with His teaching about the Kingdom and with His healing? The most hopeless, the marginalized and helpless, those who were written off. Those who were already the poorest in spirit had just been blessed. They didn't have to become more humble and humiliated first. Grace says I am going to love you and bless you just as you are.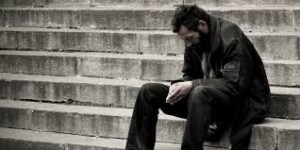 Next Jesus declares, "Blessed are those who mourn…". I was always taught I needed to mourn more for my sin, and then Jesus would bless me, but this doesn't fit the context. Those he had just preached the gospel to and healed were already mourning – mourning the loss of their health, their careers, their family, their dignity.
Jesus wasn't exhorting them to mourn more, rather He was saying I am meeting you just as you are. You don't have do anything to make yourself more acceptable before I will bless you. He had just demonstrated this amazing truth about grace. "God loves you just as you are, not as you should be" (Brennan Manning).
Personally, when I began to read the Beatitudes this way and in context, it gave credibility to Jesus's words in Mt 11:30, "My yoke is easy, and my burden is light." Walking with Jesus is good news. It is a joy.
Next week I will continue to work our way through these beautiful grace filled verses.
QUESTION:  How have you been reading these verses? Have they been good news or exhortations to work harder so you can qualify for God's blessing?
PS: Let me encourage you to listen to this past Tuesday's podcast with Dr. Bryan Chapell. Bryan compares the pain of "stop it" with the healing and hope of grace.